I know, I know...this whole posting multiple times in one day just doesn't happen very often (except on Tuesday - usually - because of post-its)...but hear me out!!
If you want to read my Transient Tuesday guest post written by THE MAN - go
here
...
Okay, so V-Day...it is such a Hallmark holiday that it kind of makes me sick...but at the same time, it is a celebration of everything pink (and red too, but that is such an inferior color) so I guess it is a holiday I just have to love!!
If you're like me - and you LOVE getting cute stuff in the mail - then head on over to Domestic Dork and join in on the V-Day lovin' fest (get your minds out of the gutter!!)!!! The last day to join the gift exchange is Friday, January 8th (that is in a few days, folks)...don't get left out!!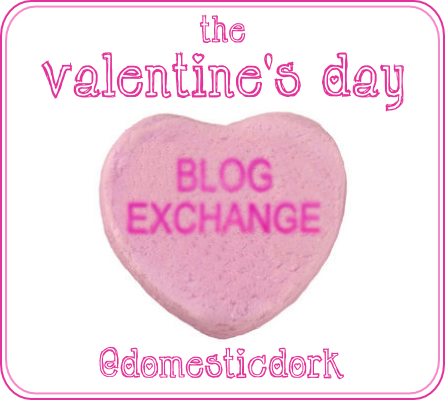 Hope to see everyone participating!!!